Sunstone Orion mPulse Pulse Arc Welder, the permanent jewelry welder
Sunstone Orion mPulse Pulse Arc Welder: one of the most popular permanent jewelry welders. This welder is getting more popular by jewelry artists. If you do a quick search on social media you will take notice that the Orion mPulse is being used more and more often. This is why the Sunstone Orion mPulse is used by the best jewelry artists globally.
Orion mPulse key benefits:
Made in the USA. You can count on quality craftsmanship and attention to detail.
US-Based Sales and Service. When you need help we're only a text or phone call away.
High Value and Quick ROI. It won't take many bracelets to pay for your Orion mPulse.
Permanent Jewelry Features. No fancy feature set; just what you need to close a link.
Easy to Learn and Use. Just use your finger to select a power level and you're ready to go.
Sets Up Quickly. You only need a few minutes to set up and prep for your customers.
Travels Easily. It's tabletop-design lets you work at jewelry parties, fairs, or in your shop.
A Jewelry Pedigree. Designed for the bench jeweler and their craft.
2-year Warranty or Forever Warranty. Take one year of coverage or subscribe to the Sunstone Circle for lifetime protection.
WHAT'S INCLUDED?
Sunstone Orion mPulse permanent jewelry welder with stylus, 3-30 Joules
ADL Darkening lens system with RJ45 cable OR Advanced ADL with RJ45 cable depending upon your purchase preference
Power cord
Alligator clips (2)
Shielding gas hose
Electrodes (five 1.0 mm premium Sunstone tungsten electrodes)
Fiberglass brush
If you purchased the microscope system:
Orion microscope arm replaces ADL
Microscope arm table mount
Microscope arm support bar
You also need:
Orion mPulse: more information
Power settings range from 3.0ws to 30ws, in 1ws increments—that's 27 different power settings to choose from. The weld spot size on the smallest setting is nearly 1mm, depending upon your material. The largest setting of 30ws will yield a weld spot approximately 1.5mm in diameter, again, depending upon the material you're welding.
This pulse arc welder works amazingly well with Gold, Silver and many other metals. It's a superior alternative to any solder application; and, measuring in at 25x30x40 cm, the mPulse takes up almost no space on your bench.
Our customers use the mPulse Pulse Arc Welder for a variety of applications. Many glass frame repair shops can now fix broken titanium frames. Small scratches are easily smoothed over with wire and a round of welds from the mPulse. Any small metal application gets easier to work with when the Sunstone Orion mPulse welder is on the job.
How can such a small thermocouple welder machine do so much? We continually perfect and improve the welding technology put into the products we've been making for more than 10 years. Tailored to the needs of our clients, each Orion Pulse Arc Welder is a demonstration of why our products exceed the competition through research and development from Sunstone's Ph.D. team of engineers.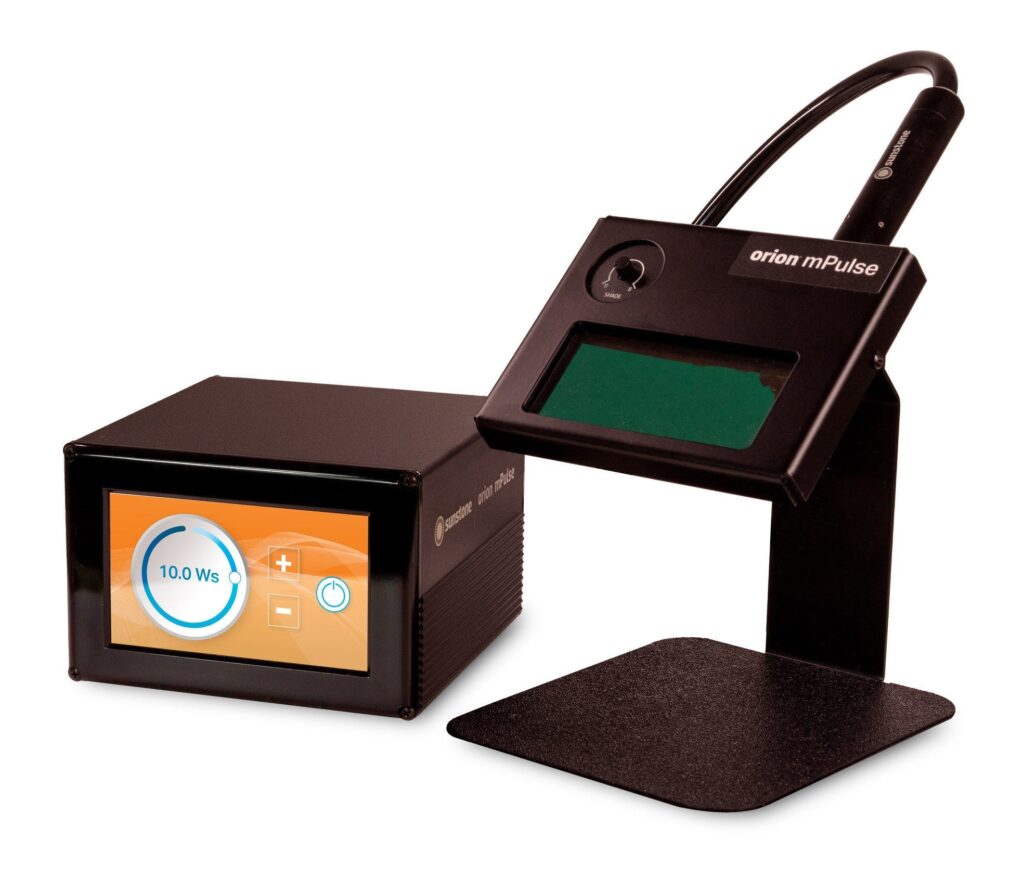 Permanent jewelry: everyone wants one!
The perfect pulse arc welder for jewelry artists